Members Area - Think Global Trade Global
Welcome to the members area. You will be provided a unique username and password which will allow you to login to the members' portal and access; Live trades by Trade View; Detailed market brief with technical charts and videos; Traders forum and live chat.
Please note that access to the member's portal is only available to clients who have purchased the Beginner, Intermediate or Advanced.
Live Trades by Trade View Investments (NOT AVAILABLE TO ALL MEMBERS)
Each day we provide clients with updates of all of our trades via our live stream. The live stream provides; Date of entry or exit; Product Traded; Buy or sell level; Stop loss level (if applicable); Profit target level; Support and resistance levels; Plus key technical analysis levels. The trades we provide are a summary of Trade View's trade activity and should not be constituted as advice or recommendations.
Market Brief, Charts & Videos
Every Monday morning we provide clients with an in-depth analysis of the global markets as we see them, and highlight the trades that we are currently interested in. We provide key levels of Interest all backed up with detailed technical analysis charts, this is all followed up by live video commentary 3 times per day from our professional traders.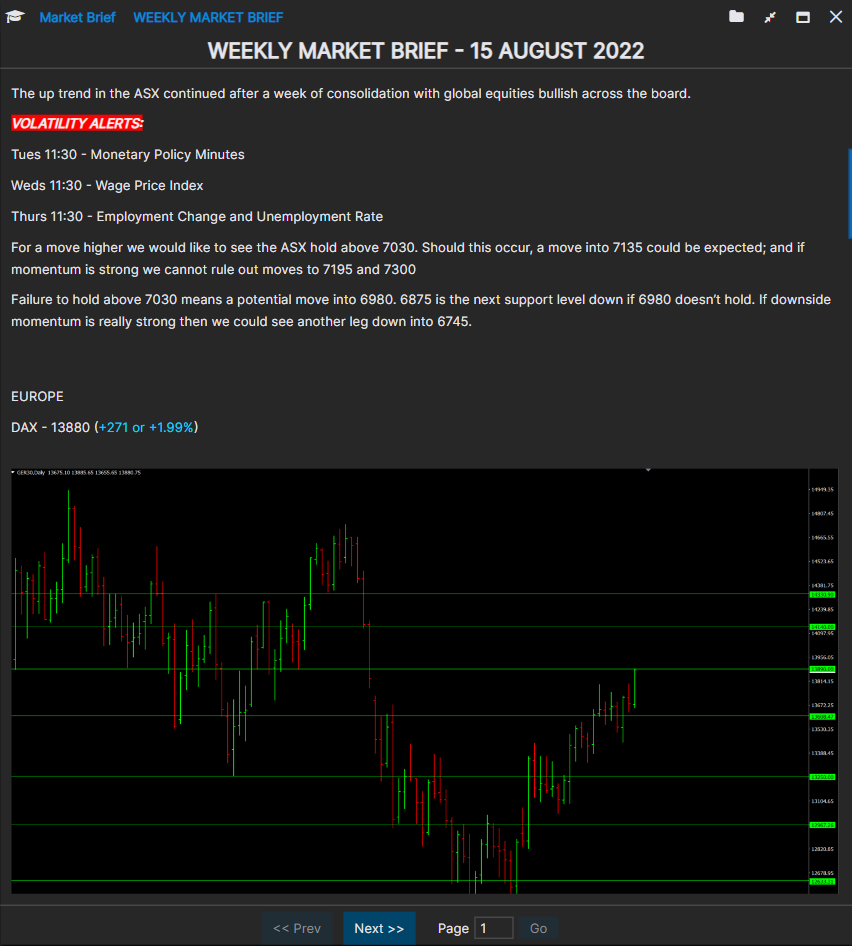 Traders Forum & Chat Room
Our private trader's forum is an active community of real traders sharing their ideas and strategies to effectively trade the markets. The forum categories of interest are; Stock forum; Index forum; Forex forum; Commodities forum; Money markets forum; and Trading systems forum. In addition to this we have a live chat area where traders post their information in real time.
Please contact us for more information.
Risk Warning: Trading leveraged products carries significant risks and is not suitable for all investors. Please ensure that you fully understand the risks involved before entering into any trades. You could lose substantially more than your initial deposit. We recommend that you seek independent advice and ensure you fully understand all risks involved before trading. Any information on this website is general in nature and does not take into account your financial situation, objectives or your needs. It's important for you to consider the relevant Terms and Conditions and any other relevant Trade View Investments documents before you acquire any of our financial products. These can be obtained from this website or on request from our offices.